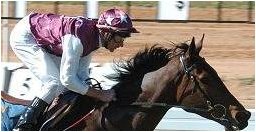 preview
Belmont R5. The Sweetcorn Cup Preview- Belmont 4 August 2012
1650m | 2:15PM
Ive priced True Gold as the favourite in this, but he's a risk drawn 3 and at the shorts.
Selections
Im not a fan of this race at all. True Gold has the best form but up to the mile, the blinkers remain on, there's very little pace and he could get back on the fence. Its a recipe for trouble.
Pattie Me Lass should stride forward and she has won both times at her next start when blinkers went on. She wasnt that impressive last start but drops in weight and retains The Pontiff. A Cheatin' Smile had no luck last time out and can lead here with Renee Forrest aboard. Not sure he gets the mile, but worth a spec at double figures.
Suggested Bet: small spec on A Cheatin Smile.
Suggested Bet
No Bet.
All bets represent a maximum confidence rating of $100 expenditure.
Matt Rigby's Bets for the Meeting
| | | | | | | |
| --- | --- | --- | --- | --- | --- | --- |
| | | $0 Total Bets | $ | $ | | $0.00 |
| | | Profit/Loss | | | | $0.00 |