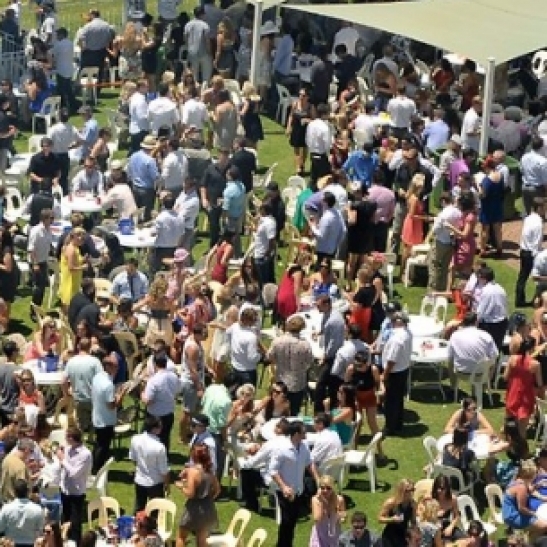 news
2018 Railway Stakes Preview
The race which stops half a nation. This isn't the highest quality Railway Stakes of all time and I don't really agree with the 4kg swing from top to bottom in the weights, but nonetheless it looks a great betting medium with opinion sure to be divided on Galaxy Star's (and William Pike's) ability to weave a passage to victory from a sticky inside draw.
It'll be the same structure as the WA Guineas preview, with Nathan Smith again giving us the low down on the Eastern State runners.
Speed Map - Rhys Radford and Craig Staples would have been hoping for one thing from the barrier draw - be UNDERNEATH Wrinkly. Unfortunately this didn't happen and the long shot of the field will lead them up from barrier 3 with Great Shot to parked on his outside. Wrinkly will be gone at the 250m mark (at best) but this still probably rules a line through Great Shot, who you would presume needed the rail to have any hope of making it back to back Railway's.
The battle of tactics for those who want to sit just off the speed will make the race, with all drawn slightly awkwardly. Man Booker (barrier 11), Prized Icon (9), Achernar Star (14) and Iconoclasm (12) all do their best work when in the first few in running, but there won't be room for all of them to get the cuddled up runs just off the speed. The big plus for these four is the fact Wrinkly is likely to go hard early and open up a vacuum for a couple of them to slot in behind it and Great Shot. Prized Icon looks the best placed to get that spot after drawing one marble underneath Great Shot, while I can see Achernar Star or Iconoclasm leading the three wide line. After his slashing (and luckless) efforts in the WA Guineas and Kingston Town last year, there must be some thought to riding Achernar Star cold.
The other positive for these on pace gallopers drawn wide, is the lack of tactical speed possessed by the well drawn brigade. Material Man (5), Gatting (1) and Perfect Jewel (7) have the potential to step cleanly, but it is likely there will be room between this group and the two leaders early. Material Man tends to be the cleanest beginner of this group and is the best mapped horse in the field. Should settle in the first six.
Much has been made of Galaxy Star's inability to step away cleanly and whether barrier 2 will in fact be a help or a hindrance. You can make a case either way, but I suspect Pike won't be afraid to try and use her a little early, knowing she only has 53kg's on her back. Peaceful State (4), Mister Sea Wolf (6) are other noted back markers who will be hoping to hold midfield spots from the good draws.
Action will be back last from barrier 15.

The Locals
Material Man - Seeing Material Man attack a Railway fresh, brings back memories of the absolute scenes post Mr Moet saluting in this race in 2014. He was $251 to $20's in the all-in markets, and from all accounts Adam Durrant bought 12 islands off the coast of the Caribbean with his winnings. This galloper is not as well hidden, with 4 straight trial victories in a very unorthodox, but now proven, preparation for our biggest race. Can thank the Goldophin stable (Hartnell was in the final weights) for only carrying the 57kg's and if Justin has this galloper at his very best, he is drawn to go awfully close here.
A lot of trust is required, but after the barrier draw he is WA's second best hope. Any type of run and look for him to start favourite in the WFA Kingston Town ($15 is still available).
Current Price: $13. Has already been specced over the last few days and I suspect that'll keep coming. A lot worse each way bets at the double figure quote.

Great Shot - Another who will be tickled pink getting into this race with only 2 kgs more than he carried to victory 12 months ago. Connections would have hated seeing Wrinkly make the final field and that dagger would have been further plunged into the chest with it drawing underneath him. Hard to see Wrinkly handing up, so he will be forced to sit outside the speed here.
Such a strong tough horse, but I just can't have him with Wrinkly's addition to the race.
Current Price: $13. Has fluctuated between $13 and $31 since final field markets opened. Won at around $25 in 2017 and I suspect you'll see a near identical price at the jump. Can lightning strike twice?

Man Booker - Was relatively bullish on Man Booker early and I remain somewhat confident in the 'ladies horse' running a big race. No stranger to winning on our biggest race day after taking out the Guineas in 2015, but does have to deal with a tricky little draw. Harvey will be aiming to follow Great Shot across and nip in behind him (probably the best spot to be in the run), but he won't be alone in wanting that spot.
Happy putting a line through his last effort in a very funny form race. With a better draw he'd be in my top few.
Current Price: $14. Would be under $8 with a good draw. From 11, this price looks spot on.

Gatting - When a horse wins at WFA, drops 6kg's back to a handicap, draws barrier 1 and gets the services of one of the countries best hoops it is hard to see why it can't win. Then you see the dreaded bar shoe go on.
I would not have tipped Gatting in a million years in the Group Two Lee Steere, but his win was phenomenal. Every runner in that field will do battle in a Group One over the next fortnight and he made them all look second rate. He is a galloper I really don't know what to make of.
Current Price: $13. Purely on his last run, with the list of positives mentioned above he deserves to be half this quote. But that run was 'out of the box' and the bar shoe does go on, so this quote looks spot on. The hardest horse to price all day.

Achernar Star - Twitter will probably break if this fellow is the first past the post. A brilliant training effort from Simon Miller to get him back on track after a failed campaign mid year has seen him run three big races upon return. As touched on earlier, was luckless at last years carnival and that luck seems to have continued with the horror barrier draw. Likely to look for a spot forward (three wide line on the back of Iconoclasm would be the aim), but a case could be made to ride him cold.
There'll be a few frothies flowing at Ascot if he is successful.
Current Price: $16. From the gate he has to drift. Is another who would have started $10 or less from a good alley.

Action - Expecting this galloper to put in a real 'get on me in the Kingston' type run. Was no match for Galaxy Star two starts ago and unless that galloper doesn't see daylight in the straight, it is hard to see how he beats him home, let alone the rest of the field.
Wasn't ridden to his strengths last start when looking for runs between horses. Really does need to wind up. Not sure if Paddy Carbery is the right choice of jockey for a horse who requires some subtle reminders to keep his mind on the job throughout running.
Current Price: $15. Clear unders, gets to $30+ on the exchange. Won't win this or the WFA Kingston Town, but will go very close in the Perth Cup.

Disposition - The Gangemi's have had unparalleled success with 'used' gallopers, but getting Dispo up here would be taking that success to an all new level. A long way short of this lot.
Current Price: $101. Can't win.

Galaxy Star - When you win nine of your first twelve starts (and run fairly unlucky seconds at your other three) and get in with 53kg's you are naturally going to be hard to beat.
A recent victory in the Group Three Asian Beau, could not have been any more impressive visually, though when deciphering the form from the race is looks less appealing. Action was a clear second in that event and while that galloper probably didn't get the run he wanted at his most recent outing, he was still somewhat disappointing. Nothing further back in the field really makes you feel good about the form. In saying that, you can only beat what is in front of you and it clearly rated as the best win of the day with Pike sitting up over the final stages.
The step up to the mile and the 53kg's (even though she is technically not well weighted being a 98 rater in a 104+ event) are well in his favour, though the barrier draw is up for debate as a positive or negative. There is nobody else I would want on that type of horse from the draw and I am sure I won't be alone in hoping that Pike packs his pogo stick again.
Current Price: $3.35. With the worrying barrier draw, I suspect she won't get much shorter than this. Has only started above $2 once (SP'd at $2.05 first up this campaign), we know punters don't miss her; but this is a Railway.

Perfect Jewel - Really hard to have on her last run behind Gatting. The only thing in her favour is the fact Bob wouldn't be running her if she had any type of issues.
Current Price: $31. Looks severe unders. Will trade at close to $100 on the exchange.

Star Exhibit - Funnily enough is the best weighted horse on the minimum (104 rater in a 104+). Meets a lot of these better at the weights and his last effort behind Gatting was an improvement. The target will be the 2100m Cox Stakes (or whatever name it has this year) and the Perth Cup.
Current Price: $101. Not a winning hope.

Wrinkly - Connections of some of the higher rated on pace gallopers would be a little disappointed to see an 89 rater make the final field. Will roll forward and play a huge part in the makeup of the race without being a realistic winning hope.
Current Price: $101. Not a winning hope.

Nathan Smith's look at the Raiders

Peaceful State - Has now become the clear second seed courtesy of drawing gate 4. Whether that barrier is enough to see the horse settle in the first half of the field though is doubtful. The game within the game may see them want to steal a march and cross the favourite on its inside at the start. Has performed consistently well over East under Weir, however has yet to greet the judge against the open class since turning four. A first up second behind the smart Land of Plenty and a fast finishing 3rd last start in the G1 Cantala Stakes, shows the hoof is on the till. It did have some favours in that run as most horses back on the rail during that event finished off the strongest on a rail biased track on the first day of the Flemington Carnival. Has to be a huge chance down in the weights in this.
Iconoclasm - The second of the Weir runners has drifted after drawing gate 12, but I don't see it being the worst gate. The horse has shown it can win sitting 3 wide without cover before and appreciates racing room. Obviously it wouldn't be ideal to be out on a limb in a competitive Railway, but it will roll forward and if it can get cover just off the speed, should look hard to beat on straightening. Can settle on the pace, run a last 600m in the 34s and carries no weight, which has to be a competitive recipe here. The run in the Cantala, didn't have the same flashing light as his stablemate, but he did travel towards the inferior outside in the run and copped a decent hip and shoulder from Peaceful State at the 400. It still battled to the line a couple of lengths away and was still strong on the line.
Mister Sea Wolf - Comes out of the same form race as the two Weir runners and the run can best be described as inconclusive. Was given windburn by the superior Land of Plenty on straightening and then raced in restricted room in the straight and never really recovered. It's run in G1 Epsom was very good beaten 3 lengths behind a flying Hartnell. That shows there is some ability there, but in a race where it maps to settle back in the field near Peaceful State and Galaxy Star, it's difficult to see it sprinting quicker than those horses.
Prized Icon - The only raider that doesn't come out of the Cantala Stakes, this former VRC Derby winner drops back from the 2000m of the Mackinnon States. I'm not sure the form out of the race will really stack up, the clear favourite Blair House ran well below expectations, and the winner (can't remember the name or the state it used to race in) was virtually handed the race being allowed to dictate in front. Although a Group 1 winner, it's hard not to see this horse as a bit of a nonny, having not won in over two years since taking out that Derby. The turn of foot required to win races like this over a mile probably just isn't quite there, but it always seems to be the thereabouts and could be in the right spot to strike here.

Race Overview: While the confidence was sky high in the WA Guineas, I can't say I have the same enthusiasm here. I'm simply going to land on Galaxy Star because unlike a lot of the social media world, I really do trust William Pike. I struggled to split him and the Darren Weir trained Peaceful State. Both of these gallopers are not renowned for their barrier manners, but both have drawn well enough to hold a midfield spot if they can bring their best on the day. Peaceful State does look the more likely of the two to hold a more forward a position in running, though I am happy sticking with our star.
Terry's Selections
Galaxy Star
Peaceful State
Material Man
Gatting

Nathan's Selections
Iconoclasm
Galaxy Star
Material Man
Peaceful State

Suggested Bet: 50 wins Galaxy Star. Very close to a 'no bet' race, but it would feel very un-Western Australian, not to have a bet.
0 Comments