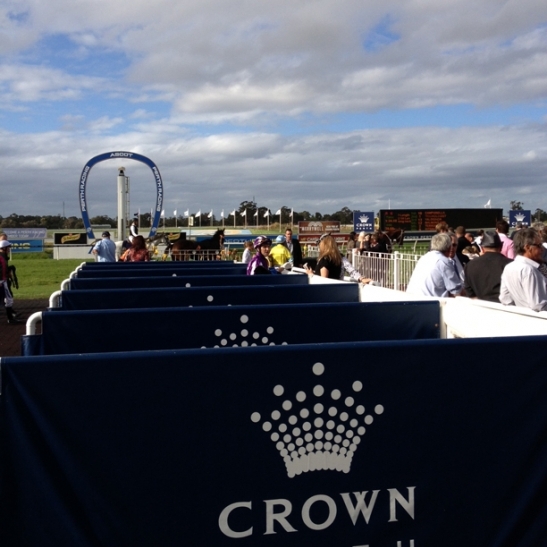 news
Ascot Preview, 12th May
Race 1 – Budding Boo… Star

Glorious conditions for the penultimate Saturday Ascot meet of the season with the sun shining and Fremantle continuing to embarrass themselves as a football club.

Budding superstar (not boobs Ross) Enticing Star returned with a reasonably strong effort over the unsuitable 1000m journey. Winning by two lengths over an unsuitable journey would usually be considered more than 'reasonable', but there were some serious brain fades from a few of the jockey brigade in giving her the dream rails run (on a day where the rail was the spot to be). The step up, albeit only to 1100m and the extra fitness from that run should be in her favour, but despite the small field, she will be back last and potentially on the back of a slow one. It's likely she will need to circle them this time.

I simply can't go past the last run and continued form of Speeding Comet. If you swap the paths the two had in transit a fortnight ago, then you swap the result. After strong money came, he was 3 and 4 deep without cover throughout and still ran second, clearing out from the rest of the field. With only Mikimoto Gift engaged as a clear pace horse, I suspect Tayla will ride Speeding Comet forward and sit on the outside of the Geraldton galloper. We saw her knock off Galaxy Star & Arcadia Prince doing the exact same thing only a week ago. It might seem like I've suffered one too many head knocks in my junior footy career (which ended at 14 due to a complete lack of skill or any form of desire to get a hard ball), but I am going to tip against the $1.35 pop here. The $2.50 for Speeding Comet to run top two looks a really nice price as main danger Jingtang is coming off a poor run and a set back (scratched a week ago with a hoof abscess), I think he is coming to the end of his campaign.

Selections

3 Speeding Comet
7 Enticing Star
1 Jingtang

Suggested Bet: 50 wins and 50 places Speeding Comet (3).


Race 2 – Pearl Necklet

You're a braver man than me if you can confidently tip Necklet or Pearls And Prawns here. It looks to be an absolutely cracking match race. Tactics will play a key part and I suggest you'll see Necklet roll forward with Pearls and Prawns potentially kicking up to hold the front, though potentially looking to snag behind this well-bred Snitzel filly. Boxonlucy will likely look to roll forward from 6, so the hyphenator may be able to snag Pearls And Prawns in behind her. It will all come down to tactics.

Pearls and Prawns was an effortless victor when racing without cover for the first time in her short career and that type of versatility is crucial to go to the next level. That was a far lower graded event and if you drop Necklet into that field she does the exact same thing. I can't split them, but I like Pearls And Prawns name better so will go with her.

Selections

2 Pearls And Prawns
1 Necklet
4 Regal Moon

Suggested Bet: No bet.


Race 3 – Alpha Miller

With the scratching of Shera Khan, we have another field of just the 6 runners, but again it is quite an intriguing event.

Alpha Sky has surprisingly been installed as the early fixed odd's favourite with the belief that the step up to 1400m will be in his favour, which it very well may be. He was backed off the map at his most recent effort against Fabergino but was simply no match for her, in a defeat full of merit. He's capable of stepping up and winning a race like this, but I don't see any value in the $2.70 on offer.

There is no reason In Love With Paris can't make it four straight. He only rises a kilo from his last victory and with no other obvious pace horses engaged (I suspect Lucky Roar will be ridden with a sit this time round), he should control the tempo with the hard hitting Pontiff on board.

Roganella rounds out the three different form-lines coming into this event with a reasonable first up victory over the older horses. He should derive a lot of fitness from that first up effort over 1400m. Along with Gifted Warrior, they should get the runs of the race.

Selections

1 In Love With Paris
4 Gifted Warrior
2 Roganella

Suggested Bet: No bet.

Race 4 – Bozza

Already Famous' form changes as often as Mark Bosnich's hairpiece, but the conditions of this event do seem to suit the Anne King trained gelding. Relatively confident I'll be the only person tipping him, so the $15 on offer may not be the best you can find. He is a horse who can race quite keenly and does struggle with a slow tempo unless being able to dictate. The inclusion of Corporate Larrikin here who will roll along in front, should allow Alan Kennedy to hop on his back from barrier 1 and should look to peel off and get a head start on the stronger finishes from about the 500m when it is highly likely Corporate Larrikin is looking for a bed. There was a lot of 'shoulds' in there which I've found can be quite inaccurate when it comes to Mr. Kennedy. His last effort was a huge effort to finish within 3.5 lengths of Middle Earth after Brodie Kirby had 109 seconds in the saddle he would prefer to forget.

While Brodie's ride on Already Famous was a shitshow, his last effort on At The Ready was a masterpiece. Only a very smart Mississippi Delta beat him on that occasion. I am not completely convinced about At The Ready and while the small field should suit, he does seem to get off the bit early and struggle to pick them up if they don't bunch up on straightening. Alan Kennedy would be well advised to look at the blueprint of Master Magician's victory over him a month ago.

Middle Earth's last win was huge when being held up til the 250m and going past his rivals effortlessly. It turned out to be a day when not many horses made that type of ground down the centre of the track. Always a little wary of horses having their first efforts over 2000m+, but the way he attacked the line at the 1800m, you'd suggest he will relish it.

I don't think Cougar Nights gets anything past 2000m, while Beg To Differ, despite his strong provincial cup runs, still has some question marks on his overall class.

Hopefully this is the first leg of a $300/1 Alan Kennedy double.

Selections

1 Already Famous
5 Middle Earth
3 At The Ready

Suggested Bet: 25 wins and 25 places Already Famous (1).

Race 5 – Miller's Market

Another Simon Miller runner which I think looks well under the odds is the aptly named Market Ruler. His last effort was OK behind a very smart Black Sabbath, but besides that galloper it was a very weak two-year-old event. The blinkers do go on here which should sharpen him up, but I am not even close to being interested in the $2.15 on offer.

Cryptic Love could arguably be unbeaten in her three career starts to date. First up she sat three deep without cover when narrowly being beaten by Super Stardom (you can draw a form line through Market Ruler here) before Paul Harvey got completely lost on her second up when she was held up the entirety of the straight. Shaun O'Donnell went back on board at her most recent outing and as soon as she found the front the race was over. Prior to that she won both her lead up trials. I would expect Paul Harvey to show aggression again in the saddle and if she finds the front, I suspect she'll be very hard to get past.

Always happy including a Paul Jordan two-year-old in my top selections, with the $31 about Carolina Reaper looking over the odds. A watch on Pablo's Poem after a couple of sharp trials, but at the each way quote it is hard not have a small bet on Cryptic Love.

Selections

8 Cryptic Love
5 Carolina Reaper
9 Market Ruler

Suggested Bet: 30 wins and 30 places Cryptic Love (8).

Race 6 – Flowers

I haven't been this excited about a couple of brothers since Grant and Andy Flower burst onto the Zimbabwean cricket scene in the early 90's. Kokopu, the younger half-brother to the group one winning Pounamu, just about identically to his older brother, burst onto the Perth Racing scene with an eye-catching trial and subsequent brilliant win. I'm still not sure how I decided the $10 wasn't worth a nibble. This is why we can't have nice things.

While that victory was only in a mediocre class 5 at Pinjarra, it was the dominance and ease in which the win was recorded. He looked all class. As a stubborn prick, I find it nearly impossible to dive in at the $3 he has gone up here but do expect him to be very hard to beat.

Cash On Call looked a little flat first up after a brilliant trial only six days earlier. The 1200m, wide gate and leader bias conditions of the day did not assist and the run is probably not worth looking too deeply into. It would be absolutely no surprise to see him turn that around and salute here. I think the winner will come from one of those two.

If there is any form of on pace bias, then Mrs Brown's Boy comes into contention. It was a nice effort to push sharp three-year-old Roganella to a long neck. Should come across and attempt to take up the running from the wide alley.

Selections

5 Kokopu
1 Cash On Call
6 Mrs Brown's Boy

Suggested Bet: No bet.

Race 7 – On The Double

Probably asking a bit, tipping an Alan Kennedy double at big prices, but I do think Helm's Gate is a very underrated and often overpriced horse. Last campaign he was a good thing beaten first and second up, before coming out to win a race not to dissimilar to this at $20. His first up run when off the track for Casey Hunter, on a day when the rail was the spot to be and to then only finish 3.5 lengths off the flying Belter, was huge. From barrier 4, with the stronger jockey on board I suspect he will be ridden aggressively early and should find a spot on the back of likely leaders Sir Snugalot and Lockroy. Again, at around the $20 quote he looks a great each way bet.

Art Series will have all eyes on her as she makes her return to the racetrack. The winner of the champion fillies showed she was capable of matching it with the big boys after a brilliant trial alongside the likes of Durendal and Gee Boss. From barrier one, she should also be afforded that nice run on the speed and will be awfully hard to hold out. At $2.70 v the $20 on offer for Helm's Gate however, I really do struggle to justify tipping her on top. There must be some question marks on how she handles the race conditions against the older horses.

Show Honey was stiff in defeat last start and the 1200m is her pet distance. If Pike finds gaps with her late, she will be hard to hold out. A really competitive affair.

Selections

5 Helms Gate
4 Art Series
9 Show Honey

Suggested Bet: 25 wins and 25 places Helms Gate (5).

Race 8 – Stent To Stone

I'm going to continue with the theme of the day and again search for some value in the final event with Gigante. I really like the jockey change from Emma Stent to Tayla Stone here with Emma Stent still yet to break her duck upon returning from injury. The instructions on this Stratum gelding to jump and run are right in Tayla's wheelhouse. My Greek Boy will be a pest out in front, but she should be able to come across and race on his outside. His last run suggested he might be coming to the end of a fruitful campaign.

On their last effort's both Pinzu and War God are winning chances, while the runs of Bass Strait, Pushin' Shapes and Senso all caught the eye.

If there appears to be any on pace bias early in proceedings then the $18 quote about Gigante, will comfortably be the best value bet of the day. In Tayla we trust.

Selections

1 Gigante
3 War God
9 Bass Strait

Suggested Bet: 40 wins and 40 places Gigante (1).

18 Comments | 3 years ago