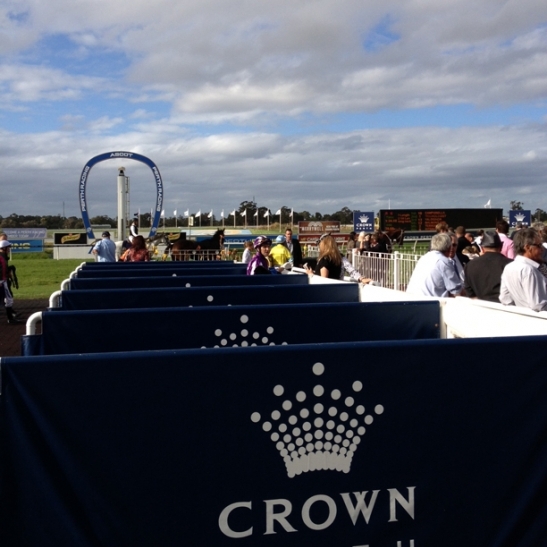 news
Ascot Preview, 17th November
Race 1 - Seven Days
With just one week til the biggest day in the Perth Racing calendar, my liver is already starting to get that uneasy feeling when it knows a serious onslaught is coming. For about the 8th year in a row I will be writing my near 30 page preview for the day, which I am sure has less readers than pages, but nonetheless I enjoy it.
No interest in the first. Specialism won well and goes close again. Mia Dolce was a perhaps a little unlucky when not receiving a huge amount of space on the rail when attempting a run on debut, but will probably find trouble again. Captain Denisov looked mature in his trials, but Cam McCarthy looks good on the training track too. It doesn't always equate to game day form.
Selections
2 Captain Denisov
1 Specialism
4 Mia Dolce
Suggested Bet: No bet.
Race 2 - Prince Of Perth
Arcadia Prince hasn't gone on to live up to the hype of his three year old days, but is still a galloper we'd all love to own. A winner of 4 of his 10 starts, he should make it 5 from 11 here. Ran into the impressive Jeraft at his most recent outing and before that made light work of an at the time, inform Patrocity. Chris Parnham is a more than adequate replacement for the suspended Wizard and if at any stage you see even money for this Robert Peters galloper, I'd be hopping in.
Ragazzo D'Oro is a horse I won't be alone in going broke on. Wasn't missed by punters at his most recent outing. Didn't like the tactics last start when I felt there was an opportunity to show some aggression from the gate and ride him closer to the speed. There isn't a huge amount of tempo in this, so I would suspect after his last start failure there might be some aggression shown by new jockey Shaun O'Donnell.
Broker and Middle Earth can both sprint well fresh, while Mad Brad is in really good form. He's a strong chance of breaking his 1,336 day losing streak if he can maintain that. Just probably not in this.
Not interested in the $1.60 Arcadia Prince, but if you can shop at $1.90+ on the exchange late, I'm happy digging a hole early in the day.
Selections
4 Arcadia Prince
9 Ragazzo D'Oro
5 Broker
Suggested Bet: 80 units Arcadia Prince (4).
Race 3 - Front Running Wizard
Tayla Stone holds the mantle as our best front running jockey and her appointment on Pinball Wizard makes it an each way special.
With a rating of 75, it is a difficult horse to place for connections as it probably isn't up to the 72+ class sprinters, but carries a concerning number of kgs in a 62+. Confident Tayla Stone can offset that weight with her smooth handling of the gelding. She is mapped to sit outside of M'Lady with Patapus and Harry Thomas both awkwardly draw wide. If she gets a relatively soft time of it in the death, I expect her to be too strong late.
Truly Belong was asked for very little in a recent trial and is a strong horse fresh over a sprinting journey. From barrier 3, Chris Parnham can have her in the first 6. Klondike Kenny is a horse on the rise and I have no doubt he'll be running into a top 5 finish. Probably looking for the 1200m+ however.
Pinball Wizard is currently around the $5 quote. Was hoping to shop a little higher and we may be able to do so on the day. A confident each way investment.
Selections
1 Pinball Wizard
10 Truly Belong
12 Klondike Kenny
Suggested Bet: 50 wins and 50 places Pinball Wizard (1).
Race 4 - Fillies
Tiger Woods would be disappointed with the number of fillies in this event.
Lady Cosmology and Arcadia Queen are the clear standouts here and the current coin flip odds represent how most punters will be viewing this race. Lady Cosmology leads and leads with very little pressure, while Arcadia Queen from barrier 6 will likely be dead last with the two drawn outside of her to push forward.
While on the surface the small field should suit Arcadia Queen, the lack of tempo won't. Couple that with the few weaker entrants in the race likely to be calling it a day rather than giving her a cart into the race from the 600m, she will again be chasing Lady Cosmo from a long way out.
My head says Lady Cosmology. My heart says Arcadia Queen. My wallet says, just buy a beer instead.
I'll sit this one out unless I see $2.30+ Arcadia Queen. Hoping neither have a gutbuster and both can back up in what is shaping as a brilliant WA Guineas (yes, I've made all-in errors).
Selections
5 Arcadia Queen
1 Lady Cosmology
2 Flirtini
Suggested Bet: No bet.
Race 5 - Locked And Loaded
Near impossible to tip against the people's horse in Dainty Tess. Handled perfectly by Chris Parnham at both runs this campaign, she could even settle a little closer from the good draw here, though he will be mindful of using her early. Her strengths are clear.
The scratching of Super Maxi leaves Belter as the lone leader engaged, which over a sprint journey tends to be a winning formula. I'm not sure if he is up to these however and would have preferred Tayla Stone retained the mount.
Lockroy just about picks himself for those looking outside of Dainty Tess. Gets a 3.5kg swing in the weights for a near identical run to her a fortnight ago. At $7 each way (top 2 only), I am going to have suggest a small bet purely on that swing. I don't want to, but I feel compelled to.
Really interested to see how Scales Of Justice goes. Usually I'd suspect he'd be run off his legs early, but the lack of pace in this event could work in his favour. Does a dominant win here see Lindsey Smith think about a late Winterbottom nomination? He'd be weighted out of the Railway. Stranger things have happened.
Selections
3 Dainty Tess
7 Lockroy
6 Durendal
Suggested Bet: 20 wins and 40 places Lockroy (7).
Race 6 - Last To First
Spillinova will be one of the more popular investments on the card. Not many would have missed the natural front runner taking up a rearward position first up and flashing home behind the smart Pearls And Prawns. Racing well outside of your usual comfort zone tends to be a barometer that a nag is in very good order. There isn't much speed in this and he should lead them up and give a big kick on straightening.
Royal Command looked disappointing on the surface at his most recent outing when failing to strongly let down upon straightening. I don't quite agree with this disappointment however and feel our much beloved Wizard probably got his tactics a little wrong, riding him so hard out of the gates. The wide gate may be a blessing here with Chris Parnham no doubt giving this Street Sense gelding some time to settle and find his feet. Likely to be a long way off them and flooding home.
I am really keen on Fingermark to run a cheeky race at a price here. Was scratched from a far easier race on Thursday for this event and is drawn to sit on the back of Kimbo's Girl in the one, one. Looked to be bolting at his first two starts this campaign, but never saw daylight. Was continually underrated as a 2yo and the market suggests a similar thing may be happening again.
Mulga, Just Like Fire and Mr Undercover will all be hitting the line hard late, but with the lack of perceived tempo in this race both Spillinova and Fingermark; who will be in the first four, could well have the race between them. Fingermark is currently $20/5.5, so we will strategize a square race if it is to place.
Selections
3 Spillinova
14 Fingermark
2 Royal Command
Suggested Bet: 60 wins Spillinova (3). 20 wins and 20 places Fingermark (14).
Race 7 - Race To Railway
An 81+ rated Group 3 is basically just a glorified ratings race and this event needs to be analysed in that fashion. While it doesn't have the class we may have hoped for, it still does present a very interesting betting medium.
Action is the well deserved favourite and is in a lot of corporate bookmakers top 5 fancies for the Railway Stakes. He really should be winning this with a leg in the air if he is any hope in our states most coveted race. His racing pattern always gives you cause for concern, though his two efforts over the unsuitable 1400m this campaign have both been full of merit and shown he has gone to another level. Looks to be tracking perfectly for the Perth Cup.
Freo is the really interesting runner and if somebody told me a fornight ago, that Freo would open $4 for a Group 3, I would have laughed at them. His last victory rated through the roof (second only to Galaxy Star for the day) and purely on that run you have to give him some hope. Despite getting in on the minimum is poorly weight here, though you suspect those extra ratings points would have been found with another few starts and dominant wins. I simply cannot consider backing him at the $4.
Cappo D'Oro was one of my better bets last week before 'barrier-gate' occured. While he will be better over further, I don't think the market has completely caught up with the improvement in this galloper. Should have won a Bunbury Cup and a Pinjarra Cup which would make him a clear top weight in this. With luck he is a 95 rater, not an 83 rater. This is a luxury weight, a luxury barrier draw and the tempo set by Wrinkly will suit him down to the ground. $13 each way, is an absolute no brainer for me.
Really do like Action, but at $2.20 the win compared to the $3.50 the drum for Cappo, I see more value in a place heavy bet in that direction.
Oliver's Travels is a big watch here - this would have been the race Miller was targeting.
Selections
6 Cappo D'Oro
2 Action
4 Oliver's Travels
Suggested Bet: 20 wins and 80 places Cappo D'Oro (6).
Race 8 - Count Your Cash
A really difficult race to finish the day.
Beaucount changes the complexion of a race with his presence and you really do need to have a bit of toughness about you to win a race he's contesting. Most runners tend to be off the bit chasing from the 600m and some horses simple cannot handle it.
On class Dark Prospect looks a level above these and the drop to 1800m looks right up his alley. Last time he faced Beaucount he struggled with the increased tempo and was gone a long way from home - when carrying the big weight he is again lumped with here. The inside draw should help him get a softer run and improve on that effort, but I will be looking elsewhere.
The Big Show's last effort was nothing short of phenomenal. Sitting deep the trip over 2200m and being too strong for subsequent winner Burger Time. Think he will be one who appreciates the tempo set by Beaucount, and despite the rise in class the 54kg's is a luxury from a good alley. Not huge on the drop in distance, but can see this being one of the better supported runners for the day.
With Beaucount's racing style he will win a race very shortly when the stars align and I am simply going to take all variables behind him out of the equation by suggesting him as a win only bet at around $10. For a horse who will 'win one soon' the $10 has to be a very enticing quote. This is his fifth run this campaign and for a horse who races as he does, the deeper he gets into a campaign can only be more beneficial for his grinding style of racing.
Not Again Ken was travelling well on the bend at his most recent outing before copping a hip and shoulder Glenn Archer would have been proud of. Glenn Smith sticks despite riding last start winner My Fair Beauty. The big grey will repay those who have gone through the hard times - patience!
While I do feel The Big Show will be hard to hold out late, the $3 for a horse up in grade and down in distance is just a little thin for me. Will look for some win only value late with Beaucount ($10) and Not Again Ken ($50).
Selections
16 Beaucount
7 Not Again Ken
12 The Big Show
Suggested Bet: 50 wins Beaucount (16) and 20 wins Not Again Ken (7).

2 Comments | 2 years ago