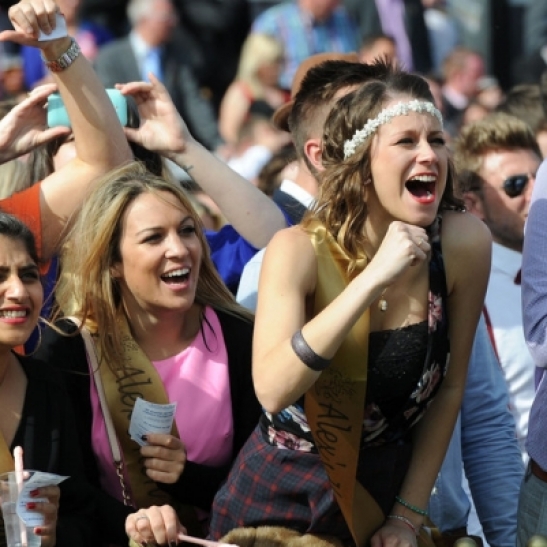 news
Good Friday Racing, 29th March
Race 1 – The Best Friday Ever

I'm not overly religious. In fact, I believe religion tends to cause more harm than good. So, the fact we can drink, gamble and yell at horses on a major religious holiday makes me a happy man.

17 races over a 24-hour period and an absolute certainty in the Albany Cup on Sunday. This is the reason we do life.

The maiden to kick off the day usually doesn't inspire me a great deal, but this event does have a different feel to it. Again, this may have nothing to do with the 16 events to follow. Ascot has been playing slightly leader/rail bias the past few weeks, more so than the beginning of the season and for that reason Clever Dick will be the selection here by a bee's. His last two runs before a spell were huge (when strong money came), before he was freshened up, trialled like Black Caviar and was nailed late first up. From the good gate, Andrew Castle should have this son of Dick Turpin in the first four in running and be given every chance. At around the $6 mark, he looks a relatively 'safe' each way bet. 'Safe' – a great word to use when punting.

Thisaway was the horse to be edged out in my selections and comes in with the differing form lines. Fourth at York doesn't necessarily read all that well, though the form from that race has stood up. His third behind Frosty Beverage last start was a huge effort given the conditions. Despite descending from the carpark, his last 600m was over half a second quicker than anything else in the race.

Friar's Classic and Tips And Scandals look the other two logical dangers, while I am happy taking on current fixed odds favourite Texas Moon. Mambazo ($61), Second Vita ($51) & Monsar ($51) are the three 'overs' for all the exotic players out there.

Selections

1 Clever Dick
5 Thisaway
14 Friar's Classic

Suggested Bet: 25 wins and 25 places Clever Dick (1).


Race 2 – Shooter

'Shooter' McGruddy is the man with the golden whip at the moment and I am fairly confident he is the right man to upset favourite Tellem We're Comin here. Echoes In Time is a very particular mare. Her last six outings she has not drawn inside gate eight and has been in the last three or four in running. Furthermore, five of those events were over 1400m, with all three career victories coming over the mile. Her last two victories she was piloted by Shaun McGruddy and on both occasions, she settled ON pace. She made her move before the bend and sustained a strong run to the line – both wins were quite comfortable. From barrier two, in a race devoid of a huge amount of speed, she should be afforded a similar run here. I think (hope) Shooter knows exactly what he has to do. She is currently $20. I have this as considerable overs, though it is important to note on her previous two victories she was not wanted in betting at all. She could jump at any old price.

Tellem We're Comin is on a potential WA Derby preparation and is the horse to beat. His win on a leader bias Ascot last start was huge, though there is the danger he will be giving the horses out in front a big head start once again. Always a risk taking $1.65 about a sit and sprinter on a leader bias Ascot track. Summit Trail should lead this with ease and Matthieu Autier may be the right jockey for this type of horse. Not convinced Thunder Boom is going all that well.

If we can get this mare up, there will certainly be some reverberations around Ascot.

Selections

9 Echoes In Time
1 Tellem We're Comin
3 Summit Trail

Suggested Bet: 40 wins and 40 places Echoes In Time.


Race 3 – Jai Taurima

You know those type of races you look at for about 20 minutes and just end up reaching for a couple of Panadol and calling it a night? This is one of those. Gifted Warrior does look to be the horse with the most upside here and Shooter could be well placed for a running double. This son of War Chant has been patiently handled by the small but strong Robert and Todd Harvey stable and with a good ride from the wide gate, should be the horse to beat. At $3.30 from the wide alley on a potential on pace bias day, it isn't something I would get overly excited about.

Ramruey looks a clear second elect after a slashing second, first up over the unsuitable 1000m. Have a lot of time for Anne King as a trainer – very under rated. This son of Kendel Star does on occasion have some barrier issues and if failing to jump from the inside gate, might find himself 3 or 4 back on the fence. With a wall of slow horses in front of him he may need to be 'Jumping' Jai Tuarima to get over the top of them. The first 50m of the race is crucial to his chances.

The bar shoe goes on the William Pike ridden Kamiko and I don't think the 1200m suits, while Vital Asset looks to be bolting this campaign, but is drawn to have a good nights sleep after the race. Hard to get enthused about Lisa Staples from deep car park.

Ramruey at around $7 looks a potential each way play here, but this isn't a race I'd put the rent on.

Selections

1 Ramruey
7 Gifted Warrior
9 Total Eclipse

Suggested Bet: 15 wins and 15 places Ramruey (1).


Race 4 – Donald Bradman

New Time brought up the Bradman in style with a soft victory first up. This race barely looks any harder and it could be another fairy-tale story if Emma Stent can salute on her return to the race track. Here are a few clichés you will hear used to describe New Time throughout the day:
- Tough as old boots
- He's just a war horse isn't he?
- Such a great horse for connections
- Wouldn't you like to own one like him?
- He's a horse you'd love to go into battle with
If you don't hear all of them used by Mark Worwood pre-race, I will eat my bar shoe.

He really is a horse you'd love to own though.

A little bit like a 1997 Natalie Imbruglia, I am Torn here. New Time is my clear on top selection, though the horse who should land on his outer; Wavehill Spur, is clearly the value. I've marked him a comfortable second favourite with strong runs behind the likes of Western Temple and Sweet Ora at recent outings. He should get it easy outside, or even trailing New Time and will appreciate a senior jockey on for the first time this campaign. How he is $20 compared to a horse like Freecell at $6 is quite absurd. And I don't use the word absurd lightly.

Let's play both.

Selections
1 New Time
4 Wavehill Spur
7 Broker

Suggested Bets: 50 wins New Time (1). 15 wins and 35 places Wavehill Spur (4).


Race 5 – Beau Of The Ball

I wasn't overly enthused about the third event of the day, but for this one I have even less interest. For that reason, I am going to tip a horse at $61 who probably has as much chance of winning as David Warner being the next prime minister of Australia. Surprised it took me five races to crack a #SandPaperGate joke.

Brad Graham usually turns to Ryan Hill over stable apprentice Sasha Starley when he feels like he has a horse ready to win. The money tends to come and the overall record (on a ROI basis) is extremely positive. Beaucount has not been handled well by jockey or trainer through his 16-start career and his record could be a lot more flattering had he been so. First up last campaign, Sasha Starley rode him to victory. Sasha doesn't have the greatest record at being a jockey. So this is some type of achievement. She sat him deep throughout in a 5-horse field and the horse was simply too good. If Ryan Hill was on that day, he probably wins by 5. His previous first up effort (while being trained by Fred Kersley), Lee Newman sat him 3 deep throughout over the 1200m journey when going down in a tight tussle with the very smart Cash On Call. This is a horse that Fred Kersley debuted over the mile (when winning – it was an incredible effort for a first starter) before backing him up 17 days later over 1200m. I am not a trainer. But this isn't doesn't seem like great horsemanship. The horse would have been a very confused commodity. Things got worse. At this third career start Fred chucked Steve Parnham on board, from a wide gate in a LISTED race. He sat 3 deep the journey, only just missing a place. This horse has serious talent – he just needs the right placement.

Hoboken, Denim Pack & Keeper's Tale all look strong winning chances, while Undisclosed is the unknown first up. The market will give you a good guide to this Alfred Nobel mare's chances.

The 1100m may be too short for Beaucount who no doubt will be sit and sprinting here, but if the race does pan out that way, I would not be surprised to see him finish over the top of them. $71 the win and $15 the place is currently available.

Selections

7 Beaucount
2 Denim Pack
1 Hoboken

Suggested Bet: 10 wins and 25 places Beaucount (7).


Race 6 – Pike's Pick

With Driftstar opening at $1.35, the most interesting part about this race may be whether the performance of Driftstar is enough to convince Pike to take the mount in the Karrakatta. Lady Cosmology & Assetro may have something to say about that.

This Sepoy gelding trialled brilliantly, before a dominant win. That race hasn't turned out to be a huge form race, but he really could not have done much more. Chix Pic was huge on his debut win and looks the obvious danger.

Not a race to bet in, but a race which will help shape the Karrakatta market.

Selections

4 Driftstar
3 Chix Pic
2 King Of Planets

Suggested Bet: No bet.


Race 7 – Filly Frenzy

This is comfortably the best race across the two-day Ascot bonanza. All eyes again will be on William Pike and how he handles the enigmatic filly Assetro. There is no doubt she possesses a heap of ability, but as a betting proposition she is a heart in mouth type. Not how I like my $2 pops. If she has matured and learnt a bit more about the caper since her last run and can jump and settle closer to the speed, she will take Karrakatta favouritism away from Lady Cosmology.

Chris Parnham had a nice choice to make here with the rides on both Nocelle and Princess Pierro available to him. He has opted for the latter, though the market doesn't quite reflect this decision with Nocelle still shorter in the market. At $11 you have to think Princess Pierro is the each way value in the race. Despite still being a maiden, she looks to have an abundance of talent and breaking through here would be no surprise. It is the first time in her short career she is stringing two races together.

Agent Pippa was slightly disappointing first up, though some of that performance could be attributed to the pressure put on by Party Night three deep. From barrier 2, she should lead this and if getting it softer out in front may be very hard to catch.

A great race, where my top pick and suggested bet will be purely going on the $11 currently available for Princess Pierro.

Selections

4 Princess Pierro
2 Assetro
3 Agent Pippa

Suggested Bet: 20 wins and 20 places Princess Pierro (4).


Race 8 – Headache

Another Panadol race. Trying to decipher which horses will get the 2100m and which will falter can be a difficult/impossible task, but when the majority possess no real ability it makes it even tougher.

Perceptive Miss and Send My Love come out of the strongest form race with two very good runs behind Like A Butterfly in the listed 1000 Guineas a fortnight ago. Both should be improved for the run over the 1800m and both looked like the 2100m would not be an issue. I have really appreciated how Jason Brown has handled Perceptive Miss, so the jockey change to Andrew Castle is not one I'm too excited about.

In a race where I do think value will be found, I am going to look a little bit further afield with my on top selection and plump for the Trevor Andrews trained Lucky Escape. I had my eye on this Star Witness gelding at his first campaign, when hitting the line well as a two-year-old. He has shown that type of form again this campaign when Trevor Andrews stepped him out to the 1900-2000 at his last two outings. While I don't think the $170/1 Midwest Crown form is huge, he should have won that race and from the good gate here Jarrad Noske will look to have him up closer to the speed.

Alezan, Watch Me Ney Ney and American Joy look like the next best. This will be a wide quaddie leg.

Selections

7 Lucky Escape
3 American Joy
9 Send My Love

Suggested Bet: 10 wins and 10 places Lucky Escape (7).

Race 9 – The Entirety Of Oz

With Ascot and Kalgoorlie being the only two racing meets on in Australia, you can imagine how much money will be coming for William Pike in the last. Especially when on paper, it looks close to a good thing.

Was narrowly beaten by Plays The Game at her most recent outing, who franked that form when just missing a place in the Bunbury Cup. The form lines are that much superior to the rest of the field, that it really makes it hard to look elsewhere. The danger on paper appears to only be bad luck and I am loathe to get stuck in to anything at the even money quote from an inside draw at a close to capacity field.

Infinite Beauty looks like a horse who will appreciate the 2200m. While Midnight Banquet's form has been further franked by Mississippi Delta's win on Wednesday. It will be interesting to see if this horse goes back to his usual role as pace maker here. Blue Tracer is capable of winning a race like this, but they simply do not understand the horse. He can stay all day and needs to be ridden accordingly. Aggression.

Selections

2 Magical Charm
7 Infinite Beauty
6 Blue Tracer

Suggested Bet: No bet.
77 Comments | 2 years ago