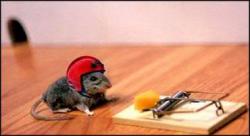 Rodent
About
Username

Rodent

Joined

Visits

15,446

Last Active

Roles

Turf Talker

Posts

6,533
Comments
Oldest progeny are now 4yo. He had 22 named foals in his first crop. He had 30 named in his 2nd crop.  Out of 52 named, 6 have won races. Only 2 have won as a 2yo, She's Greysful and Playthatfunkymusic (who won a Kal mdn as a July 2yo). The only hor…

If you BPayed after 6pm I think it will arrive on Thursday. It's a joke.

Purchased for $5,500 and now in NSW standing at $4,400 per serve  @-) https://www.breednet.com.au/news/18513/vert-de-grece-relocates-to-brisbane-meadows-in-nsw

Trainer of Vital Blast must have a different opinion to you Slip. Late scratching due to the track.

21s to 7s now Stevie's wonder. The blind leading the blind  B-)

That is laughable. He is riding it out with the whip and then gathers up the reins and sits up at the 15m mark when he has clear running to the line. Check out the head on at 2min 50 secs on the clip below. No excuse not to ride it out for 1 more st…

Look at the difference in riding to the line...

Paul Harvey serial offender has cost Romancing The Rock 3rd place. Watch the slo mo when he stops riding and restrains. The horse opens its mouth resenting the restraint.  

Are you saying he's wasted his money Rodent? For him it's change he found under his couch cushion. Needs to go east as it needs another lap. If it stays in W.A will get moved on.

Inauspicious debut by Durrant's, he was the first horse beaten. Ultimate plodder. Absolutely no finishing speed in its trial. Debut as a 4yo at 1700m on a heavy track was a dead giveaway that it's a plodder. Compare it to its full sister Verry Ellee…

Trainer says Cash Away not suited to straight racing and won't run up the straight in future. Looks like it will retire with 2 wins from 2 attempts up the straight  =)) Stewards interviewed Trainer Ms M Bazeley in relation to the racing manner of C…

Enrique was also 1st up and finished 10th 3.3L behind Never Sober. Today they are each 2nd up and Enrique will meet Never Sober worse at the weights for having been beaten easily. Absurd and patently unfair.

Current policy: WEIGHT RELIEF Horses running unplaced are eligible for weight relief. In many instances horses finishing fourth and fifth will remain neutral, depending on the margin from the winner. In the following circumstances horses may not rec…

Chris Nicoll is from Melbourne https://www.rwwa.com.au/blog/melbourne-jockey-calls-perth-home/

Cool to see they have ditched JW Player and are embracing downloads. Now we can download replays and watch them at our leisure. Well we could still download them before but now it's easier  :))

anyone read or heard the forecast for saturday? not good.... 1.4mm forecast for Friday. Less than 1mm forecast for Saturday. 

BELMONT 03/08 - After an inspection of the track, racing today has been called off. More information to follow @PerthRacing #waracing https://twitter.com/TheRacesWA/status/1554607571050594304?s=20&t=J40emPDfQVlMIml3CfhejA

9 day back up may have brought LTD undone.

Noir De Rue lining up as well.

Actually went for 50k in November. 70k would have got him in late September and he won the Kal Cup in October.

Didn't he go for 70k in an online sale recently?

What if their tips were better prices at the time they went to air? Perhaps if they have a following, they start shorter odds than when they were tipped?

Only 2.5mm of rain forecast in the next 24 hours. I can't see how they could be called off. 

@Markovina There is no get out with me - and those dopey barrstards who say that - should be sacked/terminated on the spot They work for Tabcorp. Why would they get the sack for encouraging people to bet? That's what they're there for.

With Slip with Story Book , seems to appreciate the track . What a Prince in Last . On a side note I hate betting here ????‍????. Nice find Story Book. Pretty hard to catch. Very inconsistent. It does like Pinjarra but before today had only been d…

and sat 3 wide no cover punching the breeze... follow (not beaten far). In the preceding 2 races the 3 deep no cover horse won and ran 2nd. On a heavy 8, I'm not sure it's much of a disadvantage. Probably destined to be moved on. It beat Vitai Lampa…

Anabolic steroids are controlled substances. Vets have to keep them in locked cupboards. We are not talking about a legal treatment administered too close to raceday. It's an interesting case.