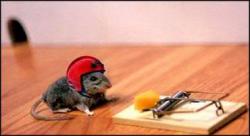 Rodent
About
Username

Rodent

Joined

Visits

14,982

Last Active

Roles

Turf Talker

Posts

6,430
Activity
Hi Rodent, See your old trainer has a runner @ Kembla in r5n 16 .. Going aroumd

@your

odds...

Rodent

Just noticed this. If you backed it you would have got an almighty thrill.

Hi Rodent, Sam's horse, Gigante, has been declared by Jim Taylor to him on the quiet, to be a future Group horse. It won yesterday against crabs but the time was quite good. I would be interested in your opinion on the quiet. I didn't buy the horse for Sam, and I have thought he would never make it past a Wednesday win or two. Cheers, Damien

wotsup

Go back to old site. What was wrong with it. ?????????